As a cold-natured person, finding good winter technical tops is my constant mission. I love my Tracksmith harrier long sleeves, but they're not warm enough to wear on their own for true winter conditions. If you like running in merino too, but you feel like most merino is too lightweight for winter conditions, Tracksmith's downeaster is the answer!
This top performs well enough for the longest winter runs and looks nice enough to wear around town. Here's what I like about Tracksmith's downeaster crew.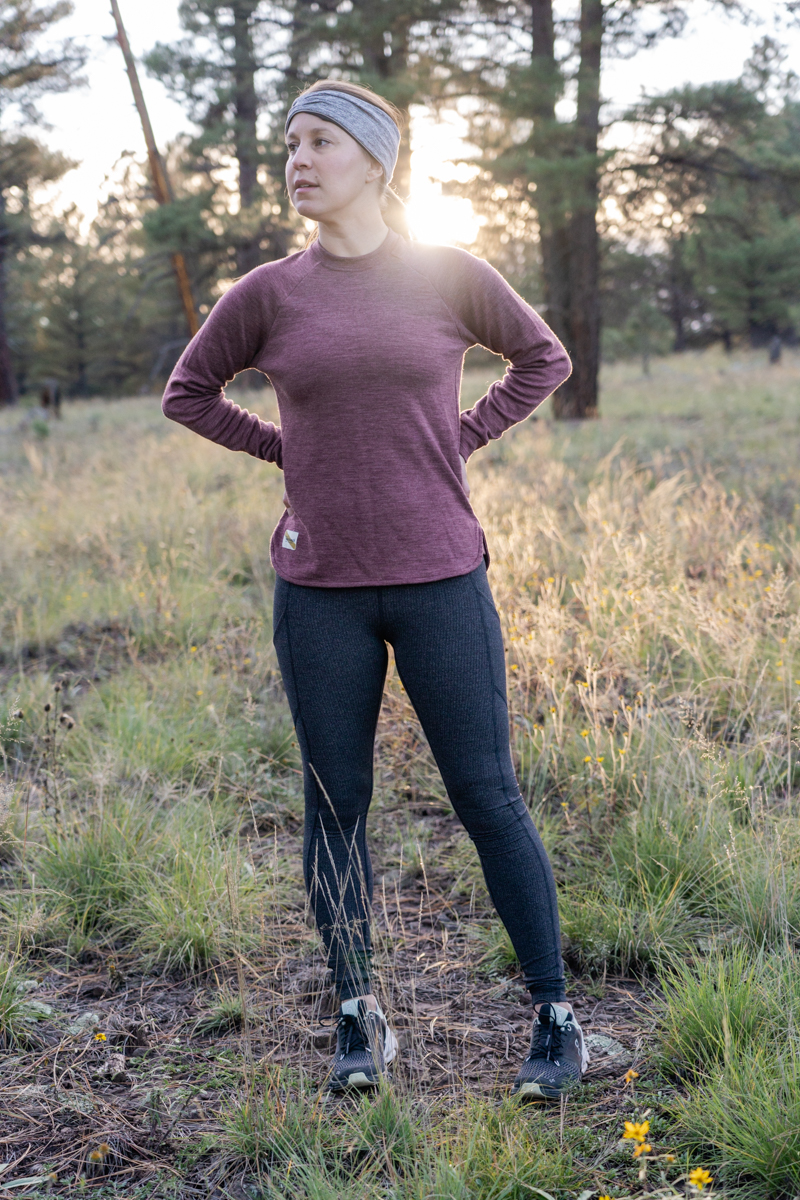 Downeaster Fit and Sizing
The downeaster is meant to fit extra loose, so it's cut much larger than most of Tracksmith's tops. Tracksmith usually runs small, but this is the first and only top I have of theirs that doesn't.
I'm wearing a size XS, my usual size in Tracksmith tops. It fits me perfectly: loose enough to be comfortable, but not too oversized or bulky. In other brands, I typically wear XXS or XS. I recommend ordering your true size, though you can expect it to fit somewhat loose against the body. If you're between sizes in other brands, like me, I recommend sizing up. That said, the fabric does stretch a bit, so if you order a smaller size, it should still work for you.
To help illustrate the sizing differences, in this photo I laid my XS harrier long sleeve on top of my XS downeaster. This really shows that the downeaster is cut both much wider and longer, even in the same size.
A couple other quick fit notes are, first, that the crew neck is cut fairly small, fitting right up to the neck instead of a looser scoop. While this helps with warmth, it could be uncomfortable if you don't like a tighter neckline. The hem is also styled into a scoop shape, with a high-low cut that's a little longer in the back. It's comfortably long for winter, which helps keep cold air from sneaking into your core. For reference, I am 5'3″ and the back reaches to mid-hip for me.
Design Details and Warmth
The downeaster is a very thick, very warm tee. It feels 2-3x as thick as my other merino tees like the harrier. It's a similar or greater level of warmth to my other winter-weight thermal running tops from other brands.
The fabrication is a mix of merino wool (60%) and polypropylene (40%). To the touch, the fabric feels like a soft knit, it doesn't necessarily look or feel like technical fabric. For me, the merino does not itch at all. I frequently wear this top around the house since it's quite warm, and it's very comfortable for casual wear.
I was surprised to see polypropylene used for this top, because it's not a common performance fabric. Tracksmith describes choosing it for its thermal properties and moisture wicking. I've taken this top on many runs ranging from 30 minutes to 3 hours, and I can vouch that the fabric really is fantastic.
Between the fabric and fit, this top performs exceptionally well in cold conditions. It's comfortable and keeps me warm, while the merino keeps me from overheating when I'm a few miles in.
The downeaster unfortunately does not have any thumbholes. Thumbholes are especially useful for winter-weight tops, so I wish they'd included that feature. For some reason, almost none of Tracksmith's tops have thumbholes. There aren't any other design features, besides Tracksmith's signature branding details.
One of my favorite running outfits right now is this top with my Athleta Rainier tights, fleece gloves, and an ear warmer or beanie. It's ideal for sunny runs in the 40s, which are common conditions for me. Any colder, and I just add a vest or a jacket. I also have worn this top for runs in the 50s, but usually with non-thermal tights and fewer accessories.
Final Thoughts
The downeaster has quickly become one of my favorite winter weight running tops, and I highly recommend it. The best things about this top are its comfort, warmth factor, and clean look. The only negatives are the price and the lack of thumbholes.
Currently priced at $138, I'll be the first to admit that this is a painfully expensive top. I was lucky enough to pick this one up during Tracksmith's annual summer sale, but I believe it's also worth full price. Tracksmith also tends to sell out of sizes and colors, sometimes very quickly. So, if you see something you like, it's best to buy it sooner than later if you are worried about missing out.
If you like having a zip option for temperature management, the downeaster also comes in a half zip version, though I haven't personally tried it out yet. Currently, the downeaster crew is available in a handful of winter colors in sizes XS-XL.
Outfit Details
Tracksmith downeaster crew – berry
Lululemon speed tights – variegated knit (current version linked)
Lululemon ear warmer
On Cloudflyer shoes



Credit : Source Post