I'm featuring another new-to-the-blog brand today! Lolë is a Canadian active fashion brand that I, somehow, never got the chance to try til now. Today I'm share a review of this gorgeous gem: the Emeline down jacket. I love sharing a wide range of active fashion brands and styles, not just my long-standing go-to's.
Bonus!! Lolë is also offering AA readers our own special coupon code! Scroll to the bottom of the post for info.
Disclosure: Lolë sent me a gift card to try a product of my choice. That covered most, but not all, of the cost of this jacket. As always, all opinions are my own.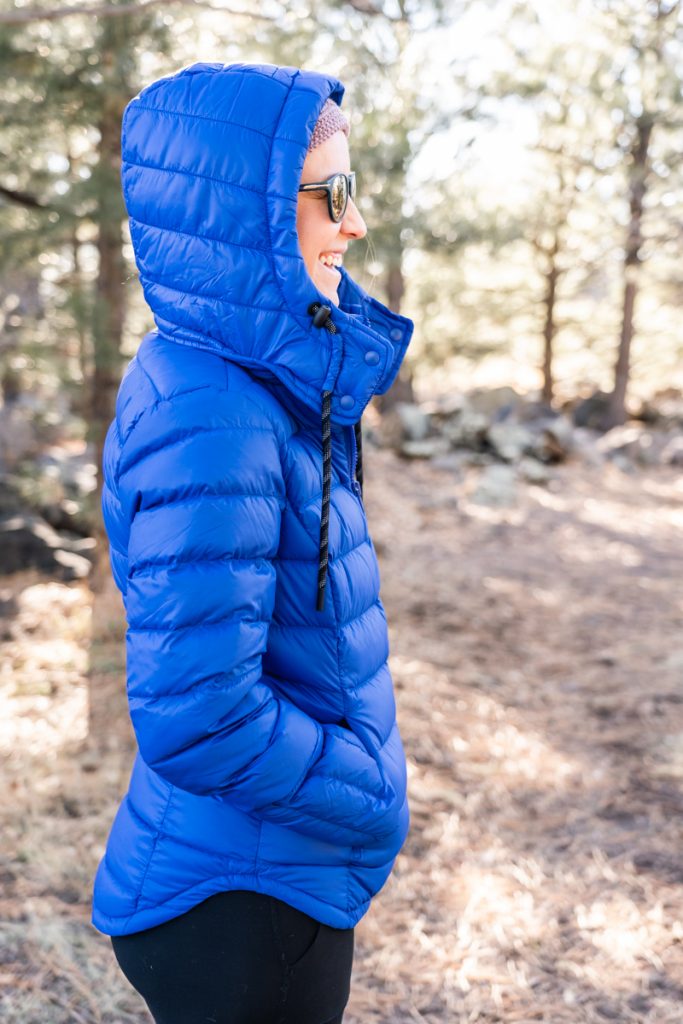 Emeline Jacket Fit and Sizing
I waffled between buying size XXS or XS, but decided on XS. I have some extra room to spare, but it suits me just fine. Overall, I would say this jacket fits true to size. I like that the scooped hem fits just a little longer in the back. I am 5'3″ and it covers most of my hips for that extra warmth factor.
When I went to hang this up, I noticed that the sleeves on this jacket are noticeably shorter than similar styles in my closet. As a petite gal, I love this, but it may be a factor to consider for tall gals. The actual sleeve length on my size XS measures about 19.5″ from pit to hem. Note that sleeve length usually varies by size, and is typically longer for larger sizes and shorter for smaller ones.
Design Details
I was drawn to this jacket in part because of the great color selection. There are lots of good options, but I eventually settled on this beautiful cobalt, Lapis. The color is so stunning in person, and these photos are pretty true to real life.
There's a couple little extra design details that add flair. The hood has snap closures and drawstrings so you can lock it down for particularly foul weather. I like the contrasting look of the drawstrings, too. The hood also removes via hidden zipper for easy down jacket washing or just for personal preference. The stitching on the back and lower arms is a simple but effective details that adds some visual interest and uniqueness.
There are two zippered pockets on either side. The jacket is made of the same material throughout: the inside of the pockets and the jacket itself are the same material as the outside.
The Emeline is more of a lifestyle jacket, but it can also be used for cold weather workouts depending on your preference and needs. Since it weighs very little, it works great as a hiking layer. My XS weighs in at just 13 oz.
Packing tip: to roll the jacket into a compact burrito, start by zipping it up and laying it flat. Then, fold each sleeve and a bit of the torso neatly toward the center line of the jacket. Starting from the bottom, roll the folded jacket toward the hood. When you reach the hood, tuck the hood snugly around the rolled portion. Tada, jacket burrito! This method is really helpful for stowing in a hiking backpack or for travel!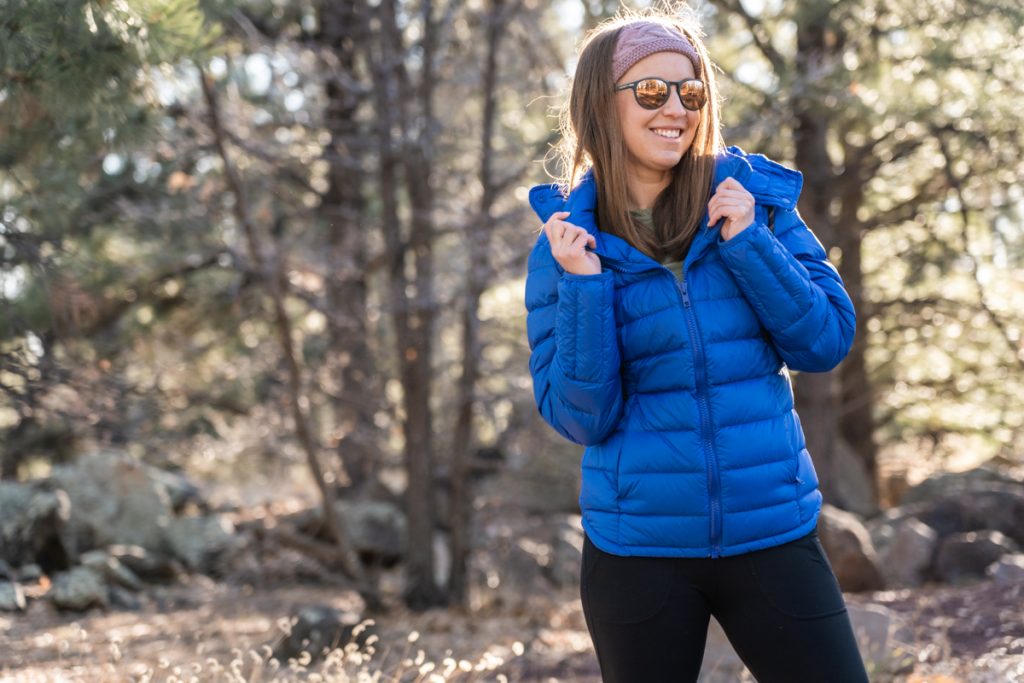 Warmth Factor
At 550 fill power, the Emeline is a medium-warmth insulated jacket. True to its name, in my opinions it's more of a jacket than a coat. Lolë lists this jacket as suitable for below freezing, but I'm pretty sure Canadians are built different. I am a very cold-natured person, so for me, this jacket works best in the 40s or 50s (F) for casual, around-town wear.
The fabric feels a little softer and smoother to the touch than most of my other insulated jackets. It has windproof and water-repellent properties, but living in a dry climate, I haven't yet had much opportunity to test that. I highly recommend that you launder with specialized down detergent to maintain the water-repellent surface and quality of the down.
Final Thoughts
The Emeline is a beautifully designed jacket that fits well and looks great. It's practical and provides good warmth for moderately cold conditions. Another major win? The price! This jacket is a fantastic value. At full price, it's $135, which is much less than a lot of similar jackets out there. And Lolë's down is totally traceable and responsibly sourced, which is something many brands don't do, especially at this price point. Overall, this jacket is an excellent choice for an affordable, stylish down jacket for winter.
To sweeten the deal even more, Lolë is offering AA readers a coupon code from now until December 31! Enter AGENT20 at checkout for 20% off your purchase of any full-priced items on Lolë's site. With the code, that brings the jacket to just $108.
As of this writing, the Emeline jacket is available on Lolë's site in 6 different colors from sizes XXS-XXL.
Outfit Details
Lolë Emeline down jacket – lapis
Alala bootcut pants – past season, similar here
The North Face cable Minna earband
Roka x Machines for Freedom Oslo sunglasses



Credit : Source Post
#TotalHealthFitnessHub #FitnessGoals #WellnessJourney #WorkoutTips #HealthyLiving #MotivationMatters #HealthCareMatters #FitnessGear #FashionAndFitness #NutritionTips #ActiveLifestyle #FitCommunity #FitnessInspiration #WorkoutMotivation #HealthyEating #FitnessResources #ExerciseTips #WellnessTips #FitnessFashion #TotalHealth #FitnessCommunity #Yoga